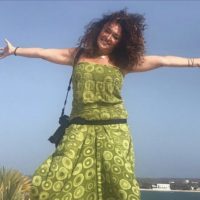 Well known for her voluminous curly hair, her never setting smile and infectious laugh,
Monia has reinvented herself a few times in her life,
with a creative flair.
From a tiny village in Italy where people didn't often come and go, upon graduating she moved to London which became her base. With a degree in Modern Languages and Literature and a career in finance, Monia retrained herself into a multifaceted photographer.
Her interest in humanity leads her to focus mainly on people.
Portraiture, social events and humanitarian photography are her areas of expertise.
An engaging personality and her genuine approach allow Monia to crumble barriers, create connections and adventures which are unimaginable for many.
This innate ability and her curiosity of experiencing life in several countries led her to photograph in different conditions for diverse clients, spanning from luxury brands to humanitarian NGOs.
Naturally drawn to the empowering initiatives of extraordinary individuals helping people worse off than them, Monia is a recurrent presence in Africa, especially in Kenya, another country she can call home.
She is an inquisitive, slow traveler, an open minded soul always looking for "the cold spot in the bed" as her parents used to describe her restless desire to step out of her comfort zone.
She enjoys discovering a place by immersing herself into it and would never waste an opportunity to talk with a stranger.
Fond of history and cultures, Monia designs and organises original photo-cultural tours where photography lovers as well as anybody willing to awaken their creativity is welcome to experience a location way beyond its superficial outlook.
Her tours are unique and never alike.
From authentic corners in London to breathtaking landscapes in Africa, from beautifully picturesque Italian villages full of art and stories, to Spanish routes where antiques traditions gracefully blend in with modernity.
Expect to learn how to make the most of your camera, awaken your creativity and create images that will forever be heartwarming visual memories.
Get ready to embark into a unique photographic experience …which will change your view.
Whoever wishes to connect with the most authentic
and covert facets of a place and its inhabitants,
will surely enjoy these proposals.
Monia is also a life-long student of languages and creativity.
She speaks four languages fluently.
One good day she decided to blend her interest in creative development with her languages skills.
She now teaches photography in several countries as well as on-line.
Her photographic proposals are thought for individuals, families, groups, perfect for tailored team-bonding experiences and are available in different languages.
Monia possesses the rare gift of inclusiveness and enjoys
collaborating with other inspiring minds, such as
painters, street artists and writers.
Her approach to photography is honest and intuitive.
Through her commercial work she aims to captivate the viewer, with her documentary projects she wishes to engage and make the audience wonder, while possibly providing a more conscious view and stimulating positive changes.
Experiencing work in different environments and for diverse organisations allowed her to gain a very concrete approach to any situation and her ability to always find creative solutions, provides a reassuring feeling for anybody working with her.